Frequently Asked Questions
What does SEO stand for?
SEO stands for Search Engine Optimization. These "optimization" tactics are used to get websites to rank higher on the SERP's (or search engine results page). There are a variety of search engines on the web, but Google owns the majority of the market share with around 80%+ of all searches being made on their platform. Therefore, the majority of search engine optimization tactics are tailored for Google.
What is SEO?
The best way to understand SEO is by way of this analogy: all of the information on Google is like a library. The websites on Google are like the books in a library. SEO organizes these websites in a meaningful and organized fashion the same way a librarian organizes the books in a library so a user can find what they are looking for without getting lost in the abyss of information. 
Is SEO or PPC better?
Answering this question is like trying to answer the chicken or the egg question. Both viewpoints are valid, it just depends on your perspective. Different businesses will have different needs, and that should dictate which of the following strategies one should follow. SEO is a more organic approach, with a lot more potential to grow your company, but it takes time, and nothing is guaranteed. Whereas, on the other hand, PPC is a lot more predictable and has immediate results, but you pay for directly for your traffic and a lot of the time, this traffic isn't evergreen.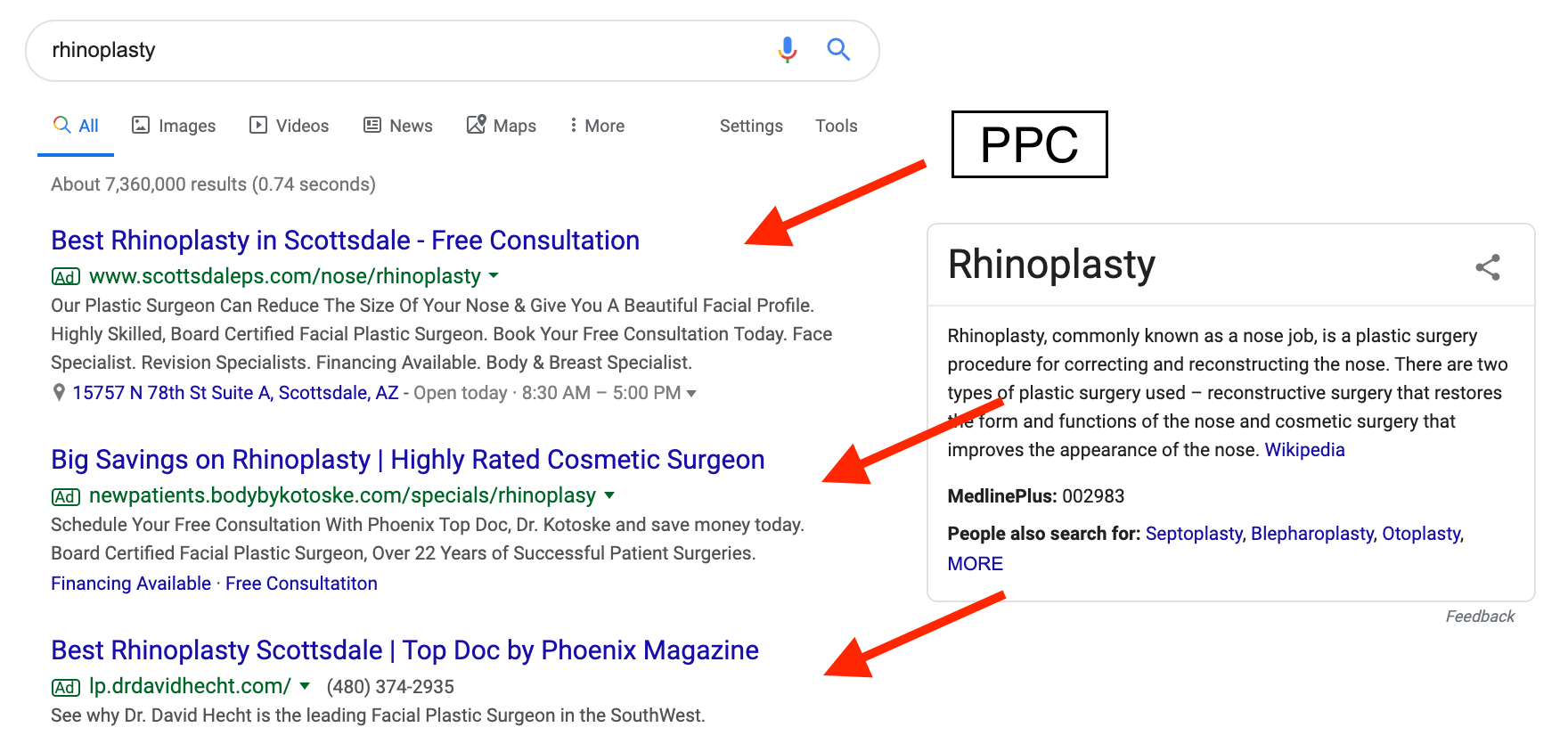 What is on-page SEO?
On-page SEO refers to the tactics used within a page to assist ranking higher in the search engine. These tactics include internal link building, metadata optimizations, H tag optimizations, anchor text placements, technical optimizations, and much more.
Does SEO still matter?
Far from it. Although SEO may get a bad reputation for being a marketing tactic without guarantees, and something that takes much longer than it paid counterparts, nearly 80% of users ignore ads in the SERPs after submitting a search. Businesses who don't engage in SEO run the risk of ignoring 80% of the users that come into contact with their business online. SEO is indeed a long term play, but that means that it drives high-quality users, and is an extremely cost-effective way of getting marketing exposure. In sum, Impactbnd.com reports that 82% report the effectiveness of SEO is on the rise and 42% state effectiveness is increasing significantly. Additionally, 61% of marketers say improving SEO and growing their organic presence is their top inbound marketing priority. SEO is in fact, alive and thriving!
Where is SEO headed this year?
SEO is trending hard in one direction, that being voice search. With the rise of voice automated home systems like Alexa, 50% of all searches will be voice searches by 2020, per Campaignlive.com. This epitomizes the ever-changing state of SEO and it's indispensable tie with the rapidly changing landscape of technology it is tied with.
Does SEO change?
SEO is constantly evolving, changing with the ever-changing technologies in the digital realm. These updates are made to their sophisticated algorithms, which means their "ranking factors" are constantly being updated. Most recently, Googled made mobile site speed a ranking factor, giving sites with optimized mobile speed giving an advantage over their competitors with slow mobile site speed.
Where do I start?
This depends on where you are at currently. If you haven't done anything, making sure that your site is buttoned up from a technical standpoint is paramount before moving forward with anything. Do you have an SSL certificate in place? Are your canonicals correctly setup? Does your site architecture make sense and do you have a sitemap to provide to Google when crawling your page? All of these things matter. If Google can't crawl your page, you're shooting yourself in the foot & Google will never be rank your site.
What is keyword research?
Keyword research is the process of finding keywords related to your niche that people are actually searching for on the SERP's. Keywords are the bedrock to any effective SEO campaign as they determine the strategies surrounding it, such as onsite optimizations and even anchor text placements in offsite strategies. You wouldn't want to optimize your site for a keyword that doesn't get much search, because then, your ranking well for something people don't even look for.
Where do I put my SEO keywords?
Imagine you are looking for a "professional wedding photographer Dallas." Would you trust a site with a title like the following? "Professional Wedding Photographer in Dallas to Take Professional Photos for your Wedding in Dallas. Call me!" The answer is no, obviously. This is called keyword stuffing, and Google will penalize any site that does this. Keyword placement should be natural in your content and within reason. You will want to make sure to also place your keyword naturally within your title tag, H1 tag, H2 tag, and possibly in your H3 tag in the form of a question (if natural).
Is blogging important for SEO?
Yep, sure is! Blogging is a great way to solve any problems your audience may have. It's also a great way to give Google the chance to rank for any new keywords you may want to rank for. Either way, blogging can be a great addition to any SEO strategy while also providing great value to your website visitors.
Should I pay attention to meta tags for SEO?
Yes sure are! In fact, title tags are one of the most important onsite ranking factors. As stated above, you'll want to make sure that you include your target keyword in the title tag in order to give Google an idea of what you want to rank for. Meta descriptions are important as well, they give your potential visitors more of a sense of what your page is about, which is important for click-through rates.

Which SEO techniques are popular?
Plenty! Link building and outreach are one of the most popular ones because they are the most important. Google has come out and stated that links still matter. On-site optimizations are also very popular. SEO blogging is also something every site owner starts when taking SEO into consideration. The list can go on and on.
What are backlinks?
Think back to when you were about to make your last big purchase. You probably sought after recommendations and the opinions of other people who have previously bought the product you were looking at. Links act the same way. Everytime a link is placed on a site pointing to another site, it acts as a vouch and Google takes this into consideration. It's important to note that not all links are created equal. Just like in person, some vouches are valued higher than others. The same goes for links on the internet, some sites carry more "trust" than others. In fact, some sites can even hurt your site if you gain a link from an untrustworthy source in the eyes of Google. In sum, the more trusted links you earn, the higher your rankings will get.
What's the difference between follow and no-follow links?
As stated above, the "trust" and "equity" links carry are passed on from one site to another site only in the case if the link is designated the "follow" tag. "No follow" tags do not pass equity, meaning Google essentially ignores the link placement.
What is link equity?
As explained above, each site carries a certain amount of "influence." When a link is placed on a site, this "influence" (positive or negative) is passed on from one site to the other. Link "influence" or "equity" is determined by several factors. Links from the related niche, from authoritative sites, and from body text have more "equity" than links from irrelevant & non-authoritative sites, and from the page headers and/or footers.
What is domain authority?
A website's domain authority is akin to the "authority" it carries. Factors that determine this are a web domain's age, the amount of links it's accumulated and the amount of "equity" from the links pointing to the site.
What is link building?
Links still matter. In fact, they've made it clear the site's who engage in questionable link building tactics will be penalized. The Moz came out with a comprehensive study on the efficacy of link building and its effects on rankings. More on the study conducted can be read here

.
Internal vs. external links: What's the difference?
Internal links are links that come within the same URL. External links are links that come from external URL's.
What are different ways to build links?
There are plenty of techniques used to build links, such as broken link building, skyscraper techniques, and guest blogging to name a few. The art of building links is the act of providing value for other sites in return for a link, which is no small task. At Ivio, we focus on guest post blogging to help grown your SEO. More on link building can be read here.