Website Trends for 2018
We live in an age where everything is constantly evolving. This is especially true in industries like web design, where ideas and concepts change so quickly we have to look into the future instead of the present if we want to stay relevant. With 2018 rapidly approaching, let's take a look at some of the website trends IVIO believes will play a vital role in the digital marketing world during the upcoming year.
SVG
First on our list is SVG which refers to scalable vector graphics. When it comes to image formats, SVG is by far the most viable option of the future. Forget PNG, GIF, and JPG, 2018 will be the year of SVG files. High-quality graphics and images which are readily available is a web designer's dream.
Although SVG files are similar to other image formats in many ways, their differences are what makes them the ideal option for today and tomorrow's best web design practices. No matter what screen size or resolution you are working with on your web project, SVGs will always look crisp and clear while other image formats may appear grainy and blurry. This is because other extensions are pixel-based and are not created by coding instructions like an SVG.
SVGs can even be used to produce animations which were formerly limited exclusively to video or flash files. By avoiding video formatting options and using an SVG with CSS animations or transforms, your web designs will be brought to a whole new level in 2018. Simply put, this the beginning of real-time animation on the internet.
Mobile First Designs
Mobile development and mobile-first web designs are something that you cannot afford to miss out on when designing web pages in 2018. Even though this trend has been utilized in the past, it is important to note that more people are now viewing web pages on their mobile devices than laptops and desktop computers. This fact alone makes this 2018 web design trend an absolute must.
Digging deeper into this topic, optimizing web pages for mobile is now being done through an entirely new approach. Mobile web pages are being designed with an "app-based" method in mind. Before, web designers created mobile versions by reformatting desktop websites for a smaller screen. Nowadays, people are so familiar and comfortable with mobile apps that the new trend is to create mobile web pages which look and function like an app. These mobile pages result in increased engagement, better perception, and overall improved functionality.
Another positive to using a mobile-first approach is that it can lead to better desktop websites. Since screen real-estate is so crucial when it comes to mobile designs, a mobile-first approach results in highly functional desktop versions. By focusing on core functions, web designers will be able to avoid gimmicky design techniques and distractions.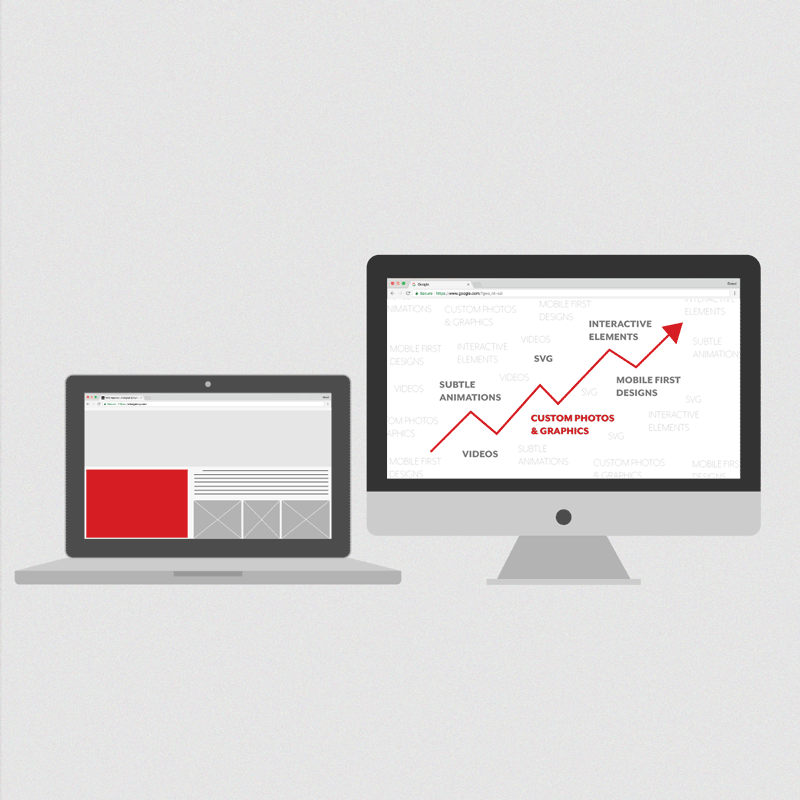 Interactive Elements
In 2018, web components like clickable phone numbers will be considered the standard and not a nice extra. Since most web pages are viewed from a touchscreen device, it is necessary that these phone numbers are clickable so that the user can easily reach your business. If you miss out on such an easily integrated design element, you are losing easy leads.
360-degree views of content using device capabilities should be a big trend in 2018. With tech giants like Facebook, Google, and Youtube already incorporating this function into their platforms, companies like Samsung and GoPro are redesigning many of their devices so they are able to seamlessly integrate into this three-dimensional virtual world. Whether you are selling shoes or a home in a master planned community, a 360-degree view can help personalize the experience for the buyer. Being able to see a product or image from every vantage point helps give the consumer a deeper understanding of the product they are buying.
Going a step further, augmented reality is also a trend to look out for in 2018. If you are familiar with Snapchat filters and Pokemon Go, you already have an idea of where this is going. Websites are going to start integrating virtual reality into browsers. The goal of augmented reality is to give customers the best experience possible and immerse them in a world where they can truly interact and learn. While much of the last few years has been all about mobile optimization, technology industry leaders believe the future will centered around augmented reality.  
What it comes down to is this: static is boring. Engage and identify with users on your site in a meaningful way and watch your leads and conversions skyrocket.
Large, Bold Imagery and Custom Graphics
In 2018, stock photos are out and custom photos are most definitely in. As consumers become increasingly aware of standard marketing practices, it becomes easier to differentiate between quality, and generic imagery, even to the untrained eye.
Investing time and money into high-quality, custom photos will definitely pay off as web design becomes more and more competitive. Stock photos can be an immediate turnoff to many web users and may cause them to look elsewhere.
In 2018, users want to be able to relate and identify with your website and ultimately your company. Web users are buying into a lifestyle, and branding techniques can improve your website's traffic. Engaging content is meant to be personable and genuine.
Subtle Animations
Distracting and gimmicky animations have become more and more outdated as technology continues to improve. No one wants Clippy popping up on their screen anymore.
Animation will get a total makeover in 2018 as web designers begin to transition over to animations which are both functional and aesthetically pleasing. Animated logos and scroll-triggered animations will both be popular web design components in 2018. They add interest and drama to a page while keeping the focus on functionality.
This new way of utilizing animations on web pages is an easy way to grab a user's attention while being simple for web browsers to handle.
Videos
Incorporate videos into your web design. Why? People are reading less and watching more. Using a video on your homepage hero may better portray your company's mission than graphics with descriptions. Spend time creating quality, worthwhile videos and you could really capture the attention of the people you want the most.
Not only are videos eye-catching, they make it easy for users to get a quick overview of the product or service you are offering. Because focal point videos generally replace written narratives, they help draw attention to critical points on your web page which can be difficult do with text.  
Some videos even allow for user interaction which could help you better engage with your audience. Much like interactive advertisements which started becoming increasingly popular over the past year or two, an interactive video can give you more specific information about the people visiting your web page while simultaneously drawing the user in on a more thoughtful level.